Flathead Lake boats
---
We have FIVE Raider Boat Company boats in our fleet. Owner Mike Howe believes that Raider boats offer the best value in a heavy-duty, welded aluminum boat on the market. We have two Sea Raider 2484's, one (2018) Coastal 2484, one 2284 Sea Raider and one 20′ Hardtop.
We also have two Weldcraft boats, both 24′ long and powered by Yamaha outboards and the 28′ long, custom built Thunder Jet for large groups (up to 15) or for those just wanting the biggest, baddest charter boat on the lake!
All our boats are equipped with premium electronics, Cannon downriggers, TR-1 Auto Pilots and everything needed for a safe and enjoyable day on the water.
Welded aluminum boats like ours are the safest and sturdiest boats on the water. They are deep and wide and you will feel safe and secure on your charter. Parents love the deep sidewalls of our boats, you are IN the boat, not on it. All of our boats have large covered cabins with heat for those cooler days we encounter in Spring and Fall.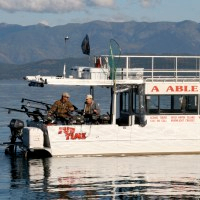 28′ THUNDER JET
---
The FUN TIME!. Guide Chris Mischke maintains this Flathead Lake icon perfectly suited for large groups. A Able Founder "Shorty" Goggins had this boat specifically built for fishing the big lake, and Chris operates it from June through September out of Marina Cay in Bigfork, Montana. Equipped with six Cannon downriggers, private head, heater and all the comforts of home! Up to 15 passengers can really spread out and fish, sunbathe or just mingle in the many seats and tables on board. This is THE largest fishing charter boat in NW Montana and is ready to serve your large group needs. Perfect for wedding parties!
The 18′ War Eagle 860
---
Ready to tackle any water in NW Montana? The War Eagle brand is arguably the finest all welded shallow water boat made in the USA. Equipped with an Opti-Max 115HP 2 stroke engine with a jet, this boat will handle up to 4 anglers, but is best for 1-3 serious anglers looking to explore all the smaller waters in the Flathead Valley and beyond. This boat will guide anglers up the Flathead River in search of giant pike. It has a Minnkota Terrova electric trolling motor with I Pilot and spot lock on the bow, a Humminbird 899 Fish Finder with the latest GPS maps and Cannon down riggers if needed. If you are serious about discovering our lesser known but world class fishing opportunities in the Valley, for Bass, Pike, Whitefish, Rainbow, Kamloops and Cutthroat trout, Kokanee Salmon, Perch, Crappie and even Walleye, let "War Eagle" be YOUR battle cry!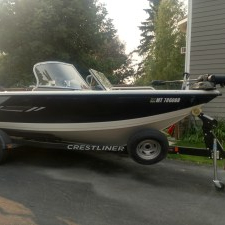 Crestliner Sportfish
---
This boat is ready for fishing all the smaller lakes in the Valley, and also does double duty for jigging the Lake Superior Whitefish on Flathead Lake. Equipped with a 150 HP Mercury Four Stroke it is as quiet as they come. Up front there is a Minnkota Ulterra bow mount trolling motor with spot lock.
Out back, two Cannon electric downriggers set up for Kokanee Salmon trolling. There is a full canvas enclosure for bad weather days, or just a bimini top to keep the sun off. The Sportfish model has an extended transom for a smooth ride, and will ensure your comfort on the water with plush seats and plenty of room for four anglers.
---
No matter which boat you and your group is assigned, rest assured that they are all equipped with the gear and comforts you need for an awesome day on the water. All our Flathead Lake boats are inspected by our local Coast Guard Auxiliary for your safety, and our guides are the best in the business. We welcome you to experience the "Howe's Fishing Difference". Take a trip with us for a memory of a lifetime!
---